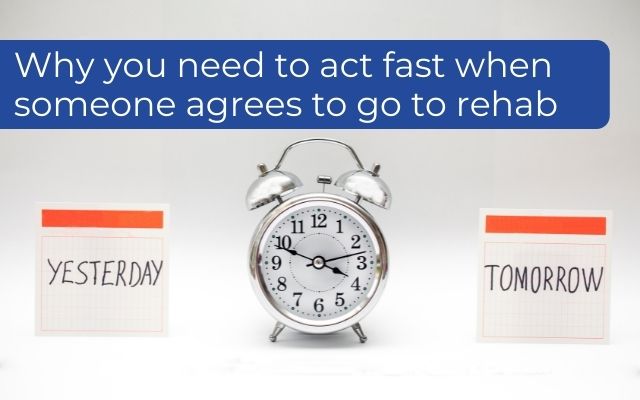 When it comes to bringing your loved one to treatment, time is of the essence. To save a life, rehab should be easy to access with as few obstacles as possible.
You should know about rehabilitative treatment: What works. This list was compiled by the European Association for the Treatment of Addiction, according to the latest evidence.
It is often difficult to get a loved one into treatment for their drug or alcohol addiction. But treatment can often mean the difference between life and death.
This is why more and more people are going the legal route and applying for court orders.
When an addict or alcoholic agrees to treatment, rehab should be readily available and action must be swiftly taken before they have time to change their mind.
It is important to note that being willing to go to rehab is not necessarily a predictor of a successful treatment outcome. Many people who go into rehab against their will find recovery and achieve long-term sobriety.
But if you are not willing to use the courts to nudge your loved one into addiction treatment, you will have to wait for them to make the decision to go to rehab themselves.
That's why it's so important to act fast when someone wants to go to rehab.
Addicts and alcoholics are often more likely to express a willingness to go to treatment after they experience a particularly negative consequence of their using or drinking or during a structured intervention. But we talk about addiction being 'a disease of forgetfulness' and, even after a sincere commitment to go to treatment, an individual can very quickly change their mind.
This 'window period' of agreement is often short. It is therefore important to take swift action to get your loved one into a rehabilitation program before they have a chance to 'forget' the severity of their situation and change their mind.
Research has shown that the harder it is to access treatment, the worse the outcomes will be for the person suffering from substance dependency.
There should be no delay between the assessment of the client and the client's admission into rehab. The longer the delay, the less likely someone will go to treatment and the less likely the treatment will result in successful outcomes.
Therefore, there should be little to no barriers when it comes to accessing treatment. Long waits or burdensome administrative requirements should be avoided.
Access and quick intervention save lives.
While it is important to act quickly, it is still advisable to prepare a client for treatment before admission. Answering all their questions can help them feel less afraid about being admitted to a rehab facility.
Do you or a loved one need treatment? Contact Changes for an obligation-free assessment today.
Call 081-444-7000 or email [email protected] to get the help you need today.
When an individual agrees to go to rehab, it's crucial to act fast. The following resources provide valuable insights that underscore the urgency: