Am I an addict or alcoholic? If you are asking yourself this question it means that you are concerned about your drug or alcohol use. It is important to pay attention to these concerns and to find an answer to this question so that you can get help sooner rather than later – and prevent many of the serious consequences of untreated addiction.
You may think that you are safe because you are using over-the-counter or prescription medication but these drugs are also addictive and can sometimes cause life-threatening withdrawal symptoms.
In this blog, we provide you with a breakdown of the common symptoms of addiction as well as a list of questions, used by medical professionals to diagnose substance use disorder, that you can ask yourself to get clarity on your situation.
Read on to find out whether you have a substance use problem – and if you should consider getting professional help.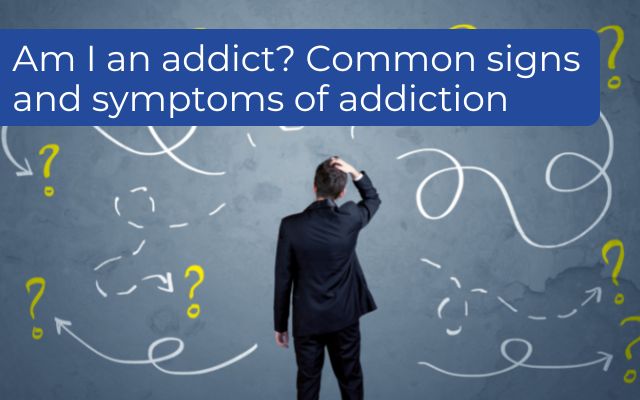 Common Signs and Symptoms of Addiction
The top two signs that you have an addiction are:
Once you start using or drinking, you can't stop
You have trouble moderating or controlling the amount of alcohol or drugs you use
Additional signs and symptoms of addiction include:
Continued using or drinking despite mounting negative consequences
Spending much of your time on getting and using substances as well as recovering from substance use
Withdrawing from relationships and isolating
Missing or ignoring important commitments and responsibilities including those related to school, work or parenting
Lack of interest in hobbies or previously-enjoyable activities
Volatile moods including outbursts of anger and spells of depression that might include suicidal thoughts
READ MORE: I can't be an addict, I'm functional! What is the definition of addiction?
Am I an Addict? Take the Test
When medical professionals make a mental health-related diagnosis they usually use a resource called the Diagnostic and Statistical Manual of Mental Disorders (DSM). The latest edition of the DSM uses 11 criteria to define substance use disorder.
Respond with 'yes' or 'no' to the following 11 questions to find out if you have a substance abuse problem, and just how severe it is.
Do you use the substance in larger amounts or for a longer period than intended?
Do you want to cut down or stop using the substance, but are not managing to do so?
Do you spend a lot of time getting, using or recovering from using the substance?
Do you experience cravings for the substance?
Are you unable to manage commitments due to substance use?
Do you continue to use, even when it is causing problems in relationships?
Do you give up important activities because of substance use?
Do you continue to use, even when it puts you in danger?
Do you continue to use, even when physical or psychological problems are made worse by substance use?
Are you experiencing increasing tolerance towards the substance?
Do you experience withdrawal symptoms when you don't use the substance or stop using it abruptly?
Mild: If you answered 'yes' to two or three of the above questions, you likely have a mild substance use disorder.
Moderate: If you answered 'yes' to four or five of these questions, it means you probably have a moderate substance use disorder.
Severe: Answering 'yes' to six or more of the above symptoms of addiction indicates a severe substance use disorder that should not be ignored and needs to be addressed.
Still unsure? You can also find a list of useful questions to ask yourself here.
In this blog, we've described the common symptoms of addiction including a short test you can take to discover the extent of your problem. Are you still unsure? Then get assessed by an addiction professional as soon as possible. Getting help sooner rather than later can prevent you from experiencing many of the tragic consequences of untreated addiction.
There is always help and there is always hope and help available. Changes Rehab Johannesburg is here to guide and support you through each step.
Call 081-444-7000 or email [email protected] to get the help you need today.