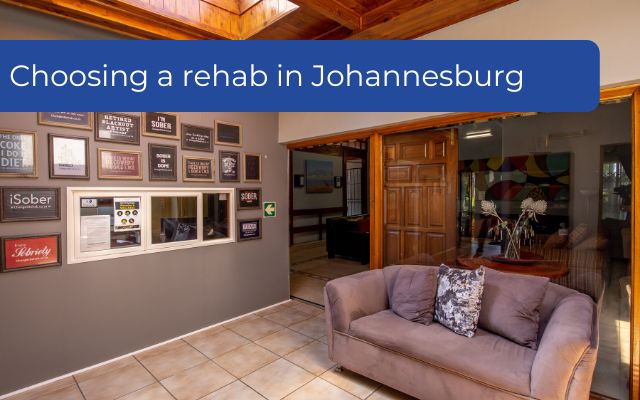 Making the decision to come to treatment is difficult, but finding the right treatment centre can be even more difficult, that's why it is important to ask these questions when choosing a rehabilitation centre in Johannesburg. You may be overwhelmed by the vast number of options revealed to you by an internet search.
So how should I choose a rehabilitation centre?
The location of the treatment facility is often one of the most important considerations for people searching for a rehabilitation centre.
It is important to include your location (i.e Johannesburg) in your internet search. Another way to do this is to search 'substance abuse rehabilitation centre near me'.
Once you have identified treatment facilities in your area, there are a number of very important questions you need to ask in order to choose the correct rehab. Treatment can be expensive and, in order to get value for money, you need to check that the facility in question meets some basic requirements.
Here are the questions you should ask when choosing a rehabilitation centre in Johannesburg
1. Is the facility registered with the Department of Health and the Department of Social Development? Are they able to provide you with proof of this (a legitimate registration number)?
Licenced rehabs are certified by government departments (Department of Health and the Department of Social Development) which means they meet the country's minimum health and safety standards. Check if the treatment centre you are investigating can supply you with a registration number confirming that it is licenced.
2. Does the facility offer a holistic programme with a wide variety of evidence-based therapies?
There are a number of evidence-based therapies used in drug and alcohol rehabilitation, for example individual and group counselling, cognitive behavioural therapy, BrainWorking Recursive Therapy, motivational enhancement therapy, occupational therapy and 12-step programmes. Using a combination of these therapies is more effective than using one treatment strategy alone.
3. Does the facility employ registered professionals such as psychologists, occupational therapists and social workers?
Registered and experienced professionals such as psychologists, occupational therapists and social workers are able to assist clients in treatment in a multi-faceted way to address a wide array of problems associated with their addiction. This can increase the chance of a successful recovery.
4. Is there 24-hour supervision of patients?
Round the clock supervision of clients in treatment is vital, especially during the detox phase. However, this kind of supervision is important at any stage of treatment to ensure clients are safe and have access to help whenever they need it.
5. Are registered medical professionals, such as nurses and doctors, on the premises or on call?
This is important in case of any medical emergency that may arise. Nurses are needed to dispense medication while doctors and psychiatrists are able to address the complicated physical and mental health needs clients may face during treatment
6. Does the facility employ addiction experts such as certified and experienced addiction counsellors?
Addiction is a complicated issue. Certified and experienced addiction counsellors are needed to address the problem in a thorough and effective way. Recovering addicts are often the only people who clients can truly relate to during treatment and are vital to a successful treatment process.
7. Does the facility's treatment strategy include an introduction to 12-step programmes?
12-step programmes and fellowships provide a structure and community that addicts in recovery can use as powerful resources to stay clean and sober in the long-term. Addicts following 12-step recovery programmes have a greater chance of maintaining a successful recovery. Such programmes encourage rigorous self-reflection: This self-awareness helps recovering addicts identify and overcome potential triggers to relapse.
8. Does the facility provide an aftercare programme to support patients when they exit treatment?
Clients often need longer-term support after they exit treatment to help them overcome life's challenges that they may find overwhelming to face while clean and sober. This support can also help recovering addicts by providing routine, structure and accountability outside of inpatient treatment.
9. What are the different types of treatment?
There are three levels of care when it comes to substance abuse treatment.
Primary care
Primary care is the first step of treatment and is usually 21 – 28 days in duration in an inpatient facility. It includes mental and physical health assessments, the detox phase and intensive therapy. People with mild disorders (as defined in Am I an addict above), or who have never been in treatment before, may need primary care treatment alone to begin their recovery.
Secondary care
Inpatient secondary care can range from a month to several months in duration and is the next step after primary care. During this treatment phase individuals are given the time and tools to achieve greater levels of self-awareness and understanding about their addictions. While secondary care is supportive, it is less structured than primary care and is geared at tackling more than just the acute substance abuse. It aims to help individuals deal with a wide variety of life's challenges. Secondary care is recommended for individuals with moderate to severe addiction disorders or for people who have been to treatment before and who have relapsed.
Tertiary care
Tertiary care refers to halfway house residential living. In a halfway house, individuals can return to work and meet life's responsibilities in a safe and structured environment. Individuals are provided with long-term support and are given help with facing life's challenges as they arise. People who have been living with addiction often need this kind of support to adjust to life while remaining clean and sober. Halfway house living is recommended for anyone who can afford it as anyone can benefit from the support tertiary care provides.
There is always help and there is always hope and help available. Changes Rehab Johannesburg is here to guide and support you through each step.
Call 081-444-7000 or email [email protected] to get the help you need today.