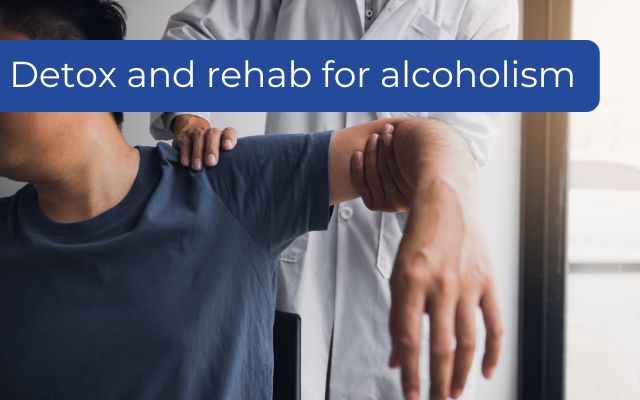 Alcohol use disorder
Alcohol use disorder (AUD) is a condition that emerges when a person's pattern of drinking causes them serious problems and significant personal and sometimes external distress. The severity of the condition is measured by checking the symptoms on a scale of mild, moderate, or severe and treatment is determined according to that outcome.
There are people with AUD who experience physical and mental withdrawal symptoms when they attempt to stop drinking. These withdrawal symptoms are potentially dangerous and should not be attempted without medical assistance.
The Detox – withdrawal
6-24 hours after the last drink, with or without the presence of alcohol in the person's bloodstream, withdrawal symptoms may begin. Symptoms will vary in severity from person to person and may include:
Anxiety
Depression
Sweating
Nausea and vomiting
Delirium tremens (DTs), restlessness, confusion, fever, hallucinations, and seizures. This is a life-threatening symptom.
Hallucinations
Sleep disturbances
Shakiness, (mainly in the hands)
Unpredictable changes in blood pressure and heart rate
How do you know if you or someone you love needs assisted detox?
The easiest way to know is to answer one question. Do you need alcohol to feel normal? If you require a drink just to function then the chances are that you need help.
It cannot be emphasized enough that stopping abruptly without medical guidance is not recommended and can be fatal. Detoxification is a medical and mental process that requires professional help in order to be successful.
The worst symptoms of withdrawal typically happen between hours 24 and 72 and the rate of seeing the detox through to completion is increased when you have medication to help ease the symptoms and support at hand.
The detox process
In order to map the type of support required by the person seeking treatment, an initial assessment is conducted. This includes tests to determine physical and mental health, discussing the problematic drinking history, and may also require blood work.
When this is complete a detox plan will be implemented. This may include medication to ease the symptoms of withdrawal and support and/or treatment for any other concerns that may arise.  Temperature, heart rate as well as blood pressure, and breathing will be checked routinely.
The objective of the detox is to help the person become mentally and physically stronger so that they are able to take part in treatment that will help them to break the cycle of addiction.
Different treatment options
Before going in for detoxification from alcohol it may be worth it to consider a few of the available options in advance as an informed decision may improve the outcome significantly.
The most common options for detox are:
Inpatient: This treatment is a live-in option and usually includes detox and 24-hour care during the process.
Outpatient: This treatment option allows you to receive treatment and/or medication during the day but you continue to live at home.
Inpatient treatment offers a wide range of services but can cost substantially more than outpatient treatment. Outpatient treatment is far more affordable and is typically an effective option for those who have a mild to moderate level of withdrawal. Outpatient services are suitable for people who have good mental and physical health without a long history of delinquent drinking.
Rehab treatment programmes may include services ranging from medical care and mental health treatment to Cognitive behavioural therapy (CBT) and counselling aimed at preventing relapse.
Inpatient treatment at a medical facility or hospital is less common than it used to be but should not be ruled out in the presence of severe medical or mental health problems.
Residential rehab facilities usually run programmes for a period of 1-3 months, longer if additional treatment is required. This is the better option for those who struggle to remain sober.
Day treatment or partial hospitalization offers daily treatment (Weekdays) and the person continues to live at home.
Intensive outpatient treatment includes scheduled sessions that are longer and more probative than conventional outpatient treatments. This form of treatment can be engaged in after any of the available programmes or as the first line of treatment.
Online programmes: With the current issues relating to the COVID 19 pandemic, a need for more innovative methods of treatment has brought about some inventive ways in which to engage without the physical risk of contact.  Intensive one-on-one and group sessions are now easily available via Zoom or similar platforms. This allows people suitable alternatives to treatment within a facility or as a means of maintenance treatment.
Choosing the right programme
A needs assessment is a good way to start.
Consider the following questions as you set out to choose a comprehensive programme that will take care of your personal requirements:
What medical or mental health issues do you have?
What type of support base do you have?
How long have you had a problem with drinking?
If you are in general good health and have not been drinking for very long, an outpatient programme may be the right choice for you. In the event that you have multiple issues and a longer history of problem drinking, it may be best to consider an inpatient treatment option.
Once you have dealt with these questions you can look into treatment that provides licensed quality care with a high success rate and that falls within your affordability bracket.
You may want to consider asking the following questions of potential treatment facilitators:
Do you accept medical aid?
How is your staff trained and are they licensed?
Can you send an outline of the treatment plan?
Do you offer counseling and medical services?
Do you have a relapse prevention programme in place?
Is there aftercare when I'm done with the program?
Medical aid cover
Addiction treatment services fall under the PMB (Prescribed minimum benefits) in South Africa and as such 3 weeks of treatment are covered according to the particular scheme's rates. There may be a shortfall or copayment that must be made out of pocket depending on the rates of the chosen treatment facility. It is a good idea to get hold of your medical aid and ask them exactly how it works and what they cover.
Follow up care / long term recovery
It is wise to view the treatment of alcohol use disorder as ongoing, as is the case with all other chronic illnesses, like diabetes or asthma. Once all of the treatments and sessions slow down and a sense of normality returns, the possibility of relapse becomes higher. Follow-up care for at least a year will minimize the likelihood of relapse significantly. 12-step programmes, one on one therapy, and peer group therapies are great options to bolster long-term recovery.
There is always help and there is always hope.
Call 081-444-7000 or email Change@ChangesRehab.co.za to get the help you need today.