Dealing with addiction is hard enough on its own, but it is even more difficult when you're dealing with a co-occurring mental illness such as depression or bipolar disorder. The link between mental illness and addiction goes both ways. About 50% of people with a severe mental illness are also affected by a substance problem. Moreover, roughly 37% of alcohol abusers and 53% of drug abusers have at least one other serious mental illness.
Addiction treatment is much more likely to be successful if these 'dual-diagnosis' patients are treated for both problems simultaneously. This is the post number 12 in our blog series '20 things you should know about rehabilitative treatment: What works'. This list was compiled by the European Association for the Treatment of Addiction, according to the latest evidence.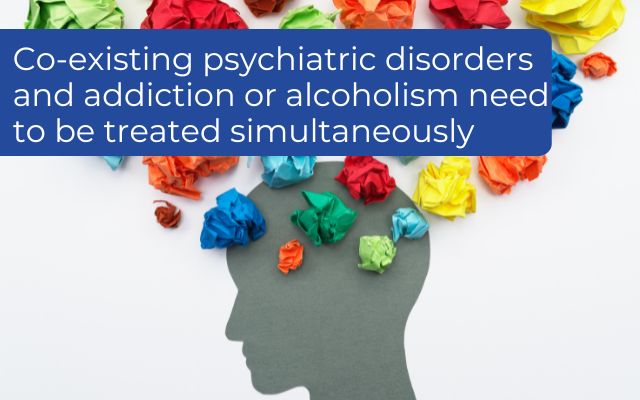 The link between mental health and addiction explained
While addiction can cause mental health problems and mental illness can lead to addiction, the one does not always cause the other.
For example, using drugs like marijuana and crystal methamphetamine can trigger acute and prolonged psychosis. Abusing alcohol and other drugs can make symptoms of depression and anxiety worse.
Moreover, many people with mental illnesses use drugs and alcohol to self-medicate for short-lived relief of psychiatric symptoms. This is especially true for people living with an undiagnosed mental health disorder. While drugs and alcohol can temporarily change one's mood or suppress difficult emotions, substance abuse invariably worsens mental health symptoms in the long run.
While it is difficult to identify if substance abuse has actually caused a mental illness, using drugs and alcohol can often trigger an underlying – yet dormant – psychiatric problem. For example, marijuana use has been found to trigger schizophrenia in those at high risk for this condition and using opiates have been linked to a greater risk of developing depression.
Regardless of the causal links, substance abuse more often than not worsens the symptoms of any other psychiatric disorder.
What is dual-diagnosis treatment?
Addiction, or substance use disorder, is officially recognised as a mental disorder. People who have been diagnosed with a mental illness, for example depression or bipolar disorder, as well as addiction are considered dual-diagnosis clients. Other mental health conditions are needed to be treated in addition to the addiction in order for a client to have the best chance at staying sober. This is because untreated mental illness can be a powerful trigger to relapse.
According to the World Health Organisation, addiction treatment should incorporate dual diagnosis approaches for successful outcomes of both issues. As such, rehabs should create individualised treatment plans for clients.
Common dual diagnosis disorders include depression, anxiety, bipolar disorder, schizophrenia, Asperger's, attention deficit hyperactivity disorder and borderline personality disorder.
How should rehabs approach dual diagnosis?
At addiction treatment centres initial assessments should investigate co-existing psychiatric disorders so that both issues can be treated simultaneously from the get go.
A personalised treatment plan should be developed for each client to comprehensively address their unique needs.
An experienced psychiatrist should be available for this assessment to ensure that the diagnosis and resultant treatment plan is accurate. It is better for clients to have access to a psychiatrist who is well-versed in treating addiction and dual diagnosis.
There should be regular psychiatric follow ups during and post treatment as symptoms are likely to change and even improve once a person progresses in their sobriety.
Are you looking for a treatment centre experienced in treating dual diagnosis clients? Contact us today.