When it comes to addiction treatment, inpatient versus outpatient rehab both have their pros and cons when it comes to treating addiction and alcoholism. Certain categories of client do better in inpatient and outpatient is more appropriate for others.
This is blog number 16 in the series 20 things you should know about rehabilitative treatment: What works. This list was compiled by the European Association for the Treatment of Addiction, according to the latest evidence.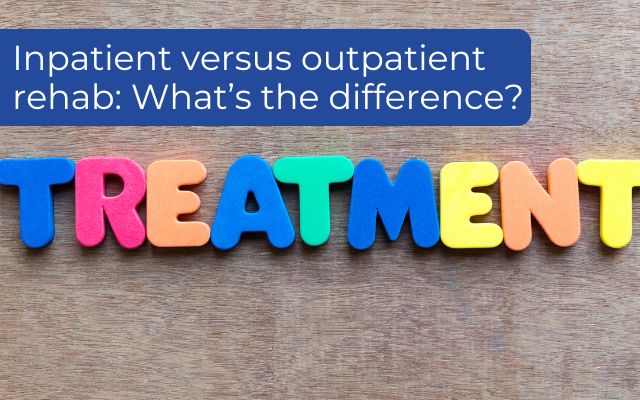 What is the difference between inpatient and outpatient rehab?
Addiction treatment usually falls into two categories: Inpatient and outpatient programmes. They both have their unique place when it comes to helping addicts and alcoholics recover from addiction.
Inpatient programmes consist of intensive and residential treatment that is designed to treat severe addictions. Outpatient programmes are part time and allow the addict or alcoholic to continue to perform their responsibilities like going to work, university or school.
Deciding which option is best for you or your loved one can be difficult but it is an important choice that could affect the likelihood of an individual achieving long-term sobriety.
Inpatient treatment programmes vary in duration [Hyperlink to blog 15 20 things] from 21 days to three or more months. There are primary (short-term), secondary (long-term) and tertiary (halfway house or sober living) inpatient treatment options. In an inpatient programme, individuals reside in a facility and have access to 24-hour support.
Outpatient programmes are designed to allow clients to continue working or studying and usually consist of a couple of hours of daily therapy over the course of a few weeks or months.
Intensive outpatient programmes have been found to produce similar results to those of inpatient programmes. Research has shown that 50 – 70% of people who completed intensive outpatient programmes were abstinent when followed-up by researchers which is similar to the success rates of inpatient treatment. Intensive outpatient programmes include a minimum of nine hours of commitments per week in at least three different sessions. These programmes often become less intensive over time with reductions in time commitments.
However, each programme has its unique benefits that apply differently to different types of client.
Who is best for outpatient?
Individuals with less severe addictions are usually good candidates for outpatient treatment.
Do you want to find out if your addiction or alcoholism is mild, moderate or severe? Click here
Some addicts and alcoholics are considered high-functioning and have managed to keep up with family, work or school commitments. This does not mean that their addiction is not affecting their lives but it does mean they haven't (yet) progressed in the severity of their addiction. These addicts and alcoholics are encouraged to seek help and treatment before they lose all functionality and outpatient programmes are a good first option for this category of client.
Clients who are treatment-naïve, in other words those who have never been in treatment before, could consider attending an outpatient programme (depending, of course, on the severity of their addiction and other factors mentioned below).
Outpatient programmes are also appropriate for people who have not yet crossed the line from problematic substance abusers to full-blown chemical dependency.
Read – The 4 stages of addiction: When does drinking or drug use turn into addiction?
Research has shown that better results are achieved with 90 days or more of inpatient treatment, but many people may not have the time or money to attend more than the initial 21 – 42 days of inpatient primary treatment. Outpatient programmes are an important option for people who have completed primary treatment and have been found to greatly reduce the risk of relapse for these patients. Continuity of care over a longer duration has been found to be incredibly important as compared to shorter interventions, no-matter how intensive.
People who do not require detox are also good candidates for outpatient programmes.
Additionally, people with a stable and supportive home environment could consider outpatient addiction treatment options.
Who is best for inpatient?
Any person who has the time and resources would benefit from long-term inpatient treatment. However, there are specific categories of client for whom inpatient treatment is particularly appropriate.
People with severe and long-standing addictions should consider inpatient treatment for as long a duration as is possible.
Those who are likely to experience severe and dangerous withdrawal symptoms need to be admitted to an inpatient programme that provides a proper medically-assisted detox. People at high risk of dangerous withdrawal include those who are heavy users of alcohol, benzodiazepines and GHB.
If a person has attended treatment before (whether it was an inpatient or outpatient programme) and has subsequently relapsed, they are recommended to attend an inpatient programme for a period of three months or longer.
Inpatient care is recommended for people who reside in unstable and unsupportive, including abusive, home environments. Residential programmes are also recommended for people who are socially isolated, people who are medically unwell, homeless persons and those with severe co-occurring psychiatric problems.
Are you looking for a quality and evidence-based inpatient or outpatient treatment programme? Contact us today.