Research shows that rehab staff at a treatment centre are pivotal to the successful treatment of the client. Staff members need to be both appropriately qualified and experienced. There should also be enough staff members: A high staff to patient ratio improves positive outcomes.
This is the post number 19 in our blog series '20 things you should know about rehabilitative treatment: What works'. This list was compiled by the European Association for the Treatment of Addiction, according to the latest evidence.
According to the United States' National Institute on Drug Abuse, the therapeutic alliance – the relationship between the client and the professional staff member/s – influence the likelihood of treatment success.
The therapeutic alliance can be described as a positive bond between the counsellor and client "who work collaboratively, and agree on the tasks and goals of treatment". It has been shown to be one of the most significant factors impacting treatment completion and success.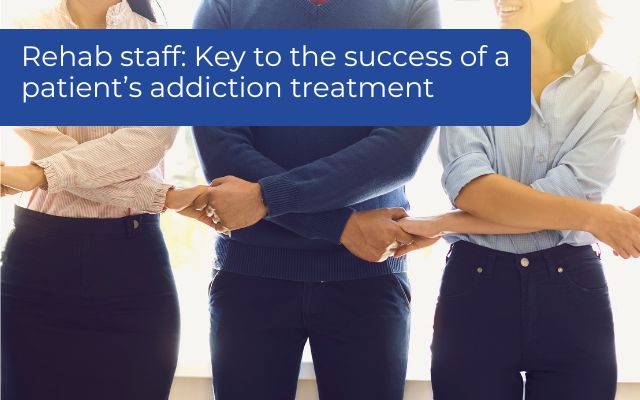 Defining quality staff
What does it mean, how can you tell whether staff at a treatment facility is quality or of a high standard? Addiction is a very complicated issue and a client at a rehab requires input from a host of different professionals in order to ensure the best chances of treatment success.
These professionals include social workers, psychologists, occupational therapists, psychiatrists, well-trained nurses etc. The staff component of a rehab needs to cover a wide array of disciplines to deliver maximum benefit to the client and to address the variety of clients' unique and individual needs.
The importance of addiction counsellors as they often provide the bulk of a client's therapy and guidance in treatment. Firstly, addiction counsellors need to possess and accredited and recognised qualification. To work as an addictions counsellor a person may choose to study towards a degree in psychology or do a specialised addictions counselling course. These qualifications can be attained through an international organisation or a local one. Secondly, an addictions counsellor needs to have the relevant experience to deliver quality care to clients. A qualification alone is not enough to start providing therapy to addicts. Graduates are usually required to complete a certain number of clinical hours to gain the needed level of experience. The more experienced the counsellor, the better and more comprehensive care they are able to provide.
A good addictions counsellor will create an environment where the client is able to become vulnerable and talk honestly about their thoughts, feelings and history. They should also be compassionate, have a high level of empathy and understanding, have good interpersonal skills, have the ability to listen and communicate effectively and have a positive attitude "accompanied by patience and tenacity".
They should also deliver therapy in a non-confrontational style. We've explained why the evidence supports this approach to therapy in this blog.
High staff to patient ratio
A good addiction treatment facility will have a high staff to patient ratio. This is because professional staff members need to have the time, in addition to the skills, to deliver quality and personalised care.
According to the American organisation, the Substance Abuse and Mental Health Services Administration, an organisation is considered to have a high staff to client ratio when there are four or fewer clients per staff member.
Addiction, and its treatment, is very complex and, for successful treatment outcomes, clients need to be given the time and attention they deserve. Having enough staff has many benefits including the fact that emergencies will be attended to more quickly, that there tends to be a better ability to deliver individualised care, that there will be shorter waiting times for therapy and that the environment tends to be less crowded and more nurturing.
Staff members: Recovering addicts versus non-addicts
Many treatment centres employ recovering addicts – people who have been clean and sober for a significant amount of time and who have attained a relevant counselling qualification. These individuals are in a unique position: They have the academic or clinical training that qualifies them to provide care as an addiction treatment professional while also being able to intimately understand where the client is coming from. They are able to get the client to relate to them – thereby building a strong therapeutic alliance.
Whether or not individuals without a personal history are appropriate to work as addiction counsellors is a controversial topic. However, the evidence suggests that counsellors who are not recovering addicts themselves can also successfully counsel addicts or alcoholics in treatment.
It is thought that employing both recovering addicts and non-addicts is the best practice as both have their place in addiction treatment.
Are you looking for a treatment centre that employs highly qualified and experienced professional staff? Contact us today.