An addict or alcoholic going to treatment is likely to be facing myriad issues, and many of these are issues other than addiction. These issues include medical, social, vocational and legal problems that are associated and contributory factors to their addiction or alcoholism. In order for treatment to be successful, these other issues need to be addressed in addition to treating substance dependency.
This is blog number 11 in the series 20 things you should know about rehabilitative treatment: What works. This list was compiled by the European Association for the Treatment of Addiction, according to the latest evidence.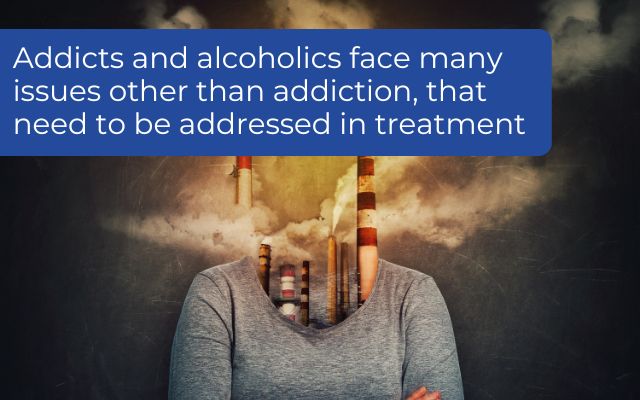 Psychiatric problems
It is very common for those suffering from addiction to also suffer from other mental health conditions. People who have been diagnosed with a mental illness, for example depression or bipolar disorder, are considered dual-diagnosis clients. Other mental health conditions are needed to be treated in addition to the addiction in order for a client to have the best chance at staying sober. This is because untreated mental illness can be a powerful trigger to relapse.
Medical problems
Many addicts also enter treatment with other medical issues. These issues also need to be treated simultaneously to the addiction. In many cases the addiction has caused the medical problem, but not always. Regardless, the addiction likely exacerbated pre-existing health issues. This is why it is important that treatment centres have medical professionals like doctors and nurses either on the premises or on call. It is important that patients undergo a thorough assessment when admitted to treatment so that comorbid medical issues can be identified. This is especially important when patients undergo detox. Clients with co-existing medical issues need to be strictly monitored by a medical professional during detox to reduce the risks and treat any problems that could occur.
Common comorbid medical issues include heart problems, liver conditions and gastrointestinal issues.
Social and vocational problems
Clients entering treatment are often facing social problems including troubled relationships with their families and problems with their job or unemployment. Addiction is often referred to as a 'family disease'. Treatment programmes that include families or support systems of addicts tend to achieve higher success rates. Providing education to families and opportunities for family therapy can significantly benefit both loved ones and addicts or alcoholics themselves. Where possible, addiction treatment should assist clients with their career-related problems including providing them with occupational therapy and skills for coping in the work environment.
Legal problems
Many addicts and alcoholics face both minor and severe legal issues at some point. While it is difficult to find similar statistics for South Africa, it is estimated that around 40% of Americans struggling with addiction have encountered problems with the law.
Addiction treatment has been shown to reduce the rates of re-offending.
Where possible, treatment centres can represent patients with regards to legal issues in the criminal justice system. Having a social worker on staff is a very helpful way for the treatment centre to assist clients with legal issues especially those related to court mandated treatment and custody issues.
Do you need quality treatment that addresses all issues that are related or contribute to your addiction? Contact us for an obligation-free assessment today.