There are many addiction treatment centres advertising their services to the public and it can be difficult to sort good facilities from sub-par ones, which is why it's important to understand what goes into running a quality rehab. When choosing a rehab, make sure to check if the facility is appropriately licenced and if it meets basic health, safety and other organisational standards.
This is the final blog in the series '20 things you should know about rehabilitative treatment: What works. This list was compiled by the European Association for the Treatment of Addiction, according to the latest evidence.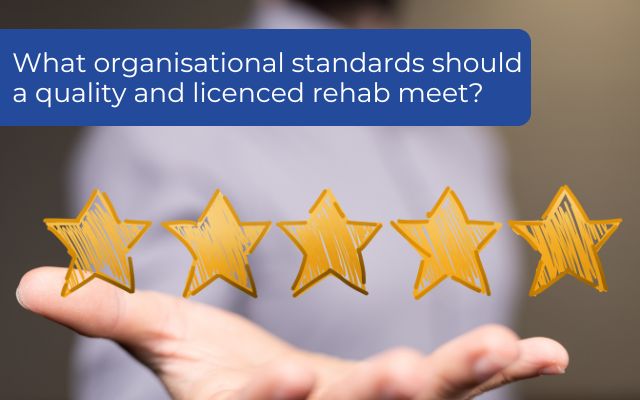 A Quality Rehab Will Be Licenced
Licenced rehabs are certified by government departments (Department of Health and the Department of Social Development) which means they meet the country's minimum health and safety standards. Check if the addiction treatment centre you are investigating can supply you with a registration number confirming that it is licenced.
Is the facility registered with the Department of Health and the Department of Social Development? Are they able to provide you with proof of this (a legitimate registration number)?
Good Organisational Standards
If an addiction treatment centre is licenced with the relevant authorities i.e., the Department of Health and the Department of Social Development, it means that the facility meets a comprehensive list of health, safety and organisational standards.
The treatment centre needs to abide by good organisational standards in all respects, operating in line with national guidelines, laws and regulations, including with respect to
Proper management practices
Proper human resources and employee management and development
Health and safety standards
Observance of patient rights
Conforming to broad ethics standards
Sound financial practices
Observing patient confidentiality
Additional Questions to Ask to Identify a Quality Rehab
Here are some additional questions to ask a rehab centre that can help you decide whether it qualifies as a high-quality facility.
Does the facility offer a holistic programme with a wide variety of evidence-based therapies? Examples of these include cognitive behavioural therapy, dialectical behaviour therapy and group therapy.
Does the facility employ registered professionals such as psychologists, occupational therapists and social workers? A wide variety of professionals will ensure that every aspect of the client's addiction will be addressed in treatment which will improve the chances of treatment success dramatically.
Does the centre treat dual diagnosis? This is when addiction occurs alongside another mental health problem or problems. Dual diagnosis is common in people entering rehab for substance abuse. Evidence shows that treating both issues simultaneously produces the best long-term results for patients.
Is there 24-hour supervision of patients? Security and safety is critical for patients, especially in the South African setting.
Are registered medical professionals, such as nurses and doctors, on the premises or on call? This is vital to ensure any medical emergencies can be swiftly attended to.
Does the facility employ addiction experts such as certified and experienced addiction counsellors?
Does the facility's treatment strategy include an introduction to 12-step programmes?
Does the facility provide an aftercare programme to support patients when they exit treatment? Aftercare has been shown to be a crucial element in people who maintain their recovery or sobriety in the long-term.
Does the centre offer all three phases of addiction treatment? This includes a primary programme (21 to 28 days), long-term treatment and halfway house or sober living options. Research shows that treatment for 90 days or longer drastically reduces relapse rates. It is better if clients are able to experience the full continuum of care at the same institution for therapeutic continuity.
Are you looking for a licenced rehab in Johannesburg that operates with good organisational standards? Contact us today.