If you've just been discharged from rehab, you might be wondering about the importance of long-term treatment and aftercare. Find out why you need to enrol in an aftercare programme immediately to safeguard your recovery. Self-help groups help too.
This is blog number 18 in the series 20 things you should know about rehabilitative treatment: What Works. This list was compiled by the European Association for the Treatment of Addiction in the early 2000's. Unfortunately, EATA is now defunct.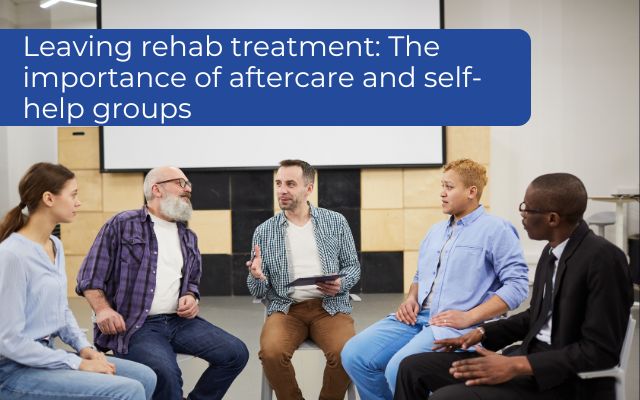 Importance of aftercare
Recovery doesn't end when you leave rehab: Getting and staying well is a lifelong commitment and aftercare can help you maintain this newfound freedom from active addiction.
Aftercare is any kind of programme that continues to provide care after an individual is discharged from treatment. This can include outpatient care, sober living, group therapy or counselling.
Aftercare greatly reduces the rates of relapse and treatment readmission.
Research shows that the chances of relapse are highest during the first few months after leaving treatment and that aftercare programmes greatly reduce this risk.
According to the latest evidence, 90 days of treatment is the recommended minimum duration for the highest likelihood of successful results. But not everyone can afford three months of treatment.
Aftercare and outpatient treatment can bridge this gap.
Outpatient programmes are another way to engage in long-term treatment to increase the chances of stable recovery for individuals who are unable to spend at least 90 days in inpatient treatment.
Depending on the length and the quality of the programme, outpatient care has been found to be almost as effective, and in some cases as effective, as inpatient care.
Aftercare programmes can be provided via face-to-face groups and therapy or delivered using online platforms.
Addiction is complex and long-term recovery, as rewarding as it is, takes consistent hard work.
Aftercare programmes help to maintain recovery from substance abuse, explore ways to prevent relapse as well as cope with a relapse. Aftercare programmes also provide invaluable support to clients as they begin to live a new way of life as well as build healthy relationships and a sense of purpose.
The longer clients stay connected to this kind of follow-up support, the better the chances of long-term recovery.
How do self-help groups assist?
Self-help groups, for example those groups attached to 12-step fellowships, can provide long-term support and accountability to addicts and alcoholics after they leave treatment.
These fellowships include Alcoholics Anonymous, Narcotics Anonymous and Cocaine Anonymous. These groups host regular, mostly daily, group meetings across the country – in person as well as online.
These kinds of self-help groups have been found to improve rates of long-term abstinence from drugs and alcohol. This is especially true if individuals access these groups once or more times a week.
The groups are characterised by "welcoming, supportive relationships in the context of recovery and providing continuing support during times of particular vulnerability to relapse".
Another benefit of this support is that is usually free and not associated with any financial commitments.
After completing primary or secondary treatment, Changes provides clients with access to an aftercare programme consisting of an individual counselling session and three online group therapy sessions a week.
Changes has also recently relaunched its intensive outpatient programme. Contact us today!