Addiction treatment works best when addicts or alcoholics successfully complete rehab treatment and don't drop out before the process in finished. Client engagement has also been found to increase an addicted client's chance of successful long-term sobriety.
This is blog number 14 in the series 20 things you should know about rehabilitative treatment: What works. This list was compiled by the European Association for the Treatment of Addiction, according to the latest evidence.
The problem with incomplete treatment
Successful addiction treatment prevents dropouts and facilitates patients in completing the therapeutic programme. Completing treatment is "one of the most consistent factors associated with a favorable treatment outcome". However, it is an unfortunate fact that it is often more common for a patient to drop out of treatment than to complete it.
In a study published in 2004 found that almost 80% of the study participants who successfully completed treatment were clean and sober when they were followed up three to five months later. Only 50% of the study participants who failed to complete treatment were still sober at follow up.
Treatment dropout rates are highest for certain groups of clients including young people, people diagnosed with personality disorders and people suffering from cognitive impairment.
Efforts should be made to retain patients in treatment provided they are not harming others.
What is high client engagement and why is it beneficial?
Treatment engagement is "the process of initiating and sustaining the client's participation in the ongoing treatment process".
It also involves being responsive to a client's needs. For example, if a counsellor is given negative feedback from a client about a given therapeutic strategy, efforts to find alternative approaches should be considered.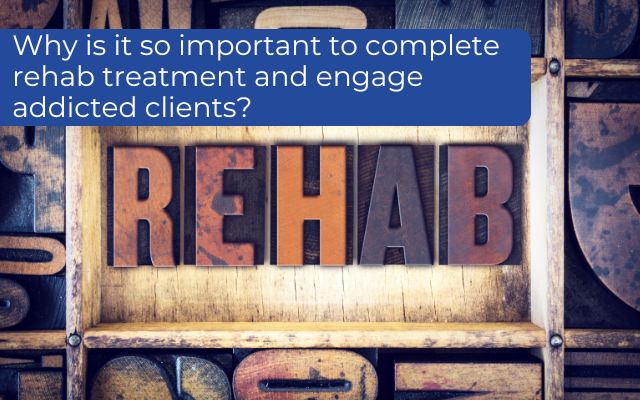 How should client engagement and treatment completion be increased?
Retention in treatment can be improved when there is a strong 'therapeutic alliance' [hyperlink to 20 things blog on staff] between treatment professionals and clients. Patient's do better when counsellors are well-trained, highly-skilled and are well-liked.
However, research has shown that a strong therapeutic alliance alone is not enough to improve treatment completion rates.
Treatment programmes should be personalised to the client's unique circumstances and needs as a one-size-fits-all approach has been found to lead to high dropout rates.
Patient satisfaction is the most important factor in successful addiction treatment. For young people, who are more likely than others to drop out of treatment, it has been suggested that less controlling therapeutic methods should be employed. This is because young people are naturally more resistant to being controlled as they are in a life stage where they are usually asserting their independence.
Involving family members or loved ones in the treatment process has also been found to raise the likelihood of a client successfully completing treatment.
Client engagement can be increased by building stronger relationships (therapeutic alliances) between clients and counsellors. Therapy focussed on empathy building and problem solving during the first few weeks of treatment has also been found to increase levels of engagement.
Engagement can also be increased by implementing systematic monitoring of client satisfaction throughout treatment. This would allow treatment professionals to respond to the shifting needs of a client when they need it.
Are you looking for a quality addiction treatment centre that engages its clients and makes the process of completing treatment that much easier? Contact us today.